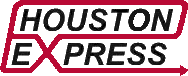 "The price you want...
...the service you expect!"
Courier & Delivery Services
Our Services
Houston Express offers the following types of courier/delivery services to suit your needs and all of our services are guaranteed!
SUPER EXPRESS (ASAP)

Houston Express specializes in small to medium size package deliveries and can provide the FASTEST POSSIBLE DELIVERY SERVICE for your most urgent packages. This delivery will be given to the nearest driver to your location and delivered non-stop to its destination.
Express Service: 1.5 Hours
Express service provides fast delivery of your urgent package and is picked up and delivered within 90 minutes placing your order by internet ordering system, or calling in. Can be used from 7:30AM up until 3:30 PM weekdays.
Hotshot Service: 2.5 Hours
Hotshot service is a great mid range delivery that is completed within 2.5 hrs. Can be used from 7:30 AM up until 2:30 PM weekdays.
Regular Service: 4.5 Hours
Regular service can save you up to 33% off the Express rate and will be picked up and delivered within 4.5 hrs.can be used from 7:30 AM up to 12:30 PM weekdays
Residential Service
Residential delivery's specified upon placing order to be left in safe and/or designated location can utilize 2 PM as the latest time this service can be used and guaranteed same day delivery.
SCHEDULED AND ROUTED DELIVERIES
Houston Express can provide your company with drivers and vehicles of whatever size needed for regularly scheduled Pickup and delivery of MAIL RUNS, BANK DEPOSITS, and INTER-OFFICE mail.
Many of our existing customers use us to pickup and deliver daily mail, payroll checks and even LUNCHES or DINNER AFTER HOURS.