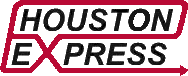 "The price you want...
...the service you expect!"
Contact Us
Contact Us
Family run means that Les Thompson and Tim Thompson, backed up by their dedicated office staff, are totally committed to your Critical Deliveries, deadlines and schedules.
Houston Express is the oldest courier service in Houston where the President and/or Vice President dispatch their drivers during the busiest times. If any of their valued customers have a concern, question, or problem they are encouraged to contact Les Thompson, or Tim Thompson immediately by phone or email or through the form below.